President's message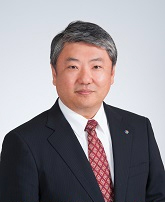 Welcome to the website of Futamura Chemical Co., Ltd.
Our company was established in 1950 to manufacture activated carbon. Under the corporate policy of "contributing to our nation and society via our products," we have expanded our range of businesses into cellulose, plastic films, phenol laminated sheets and carbohydrates.
With the plastic film business, now representing our core business, it is possible to deliver hygienic foods to consumers without loss. Our mission is to provide "products available with a sense of security" and with "stable quality," such as plastic films for flexible packaging that are indispensable for maintaining mass production, and a mass marketing system represented by convenience stores and supermarkets to "provide in a stable manner."
As these products are widely used in a variety of fields, we have systems to maintain stable supply, even in emergencies, such as multiple purchases of materials, production systems at three bases in Japan, and decentralized distribution of inventory all around the country for OPP films (biaxially oriented polypropylene film) which is our core product.
Furthermore, we have made an investment in Scientex Great Wall sdn Bhd (SGW) in Malaysia and started a production plant for OPP films in Malaysia with the slogan of, "Japanese quality with the cost of Southeast Asia." Now the plant has become an important base, playing a part in the stable supply system of OPP films.
With regard to the cellulose business, we have acquired the world's number one cellulose film maker and placed plants in UK and US under the umbrella of our company. Thus, we have established a production system and sales network to the world in three bases including Japan. As a leading manufacturer in the market of cellulose films, which is drawing worldwide interest as a material that fits into a recycling society, we are now committing ourselves to a stable supply of products and focusing on the development of cellulose-related products.
We are also focusing on the development of cellulose processing technology and promoting a project for practical application of cellulose dissolving technology using ionic liquid at a mass production level, which will be the first project of its kind in the world.
Activated carbon is widely used in various fields such as in water treatment, industrial use, and household use. We are making use of manufacturing technology and the characteristics of activated carbon, and promoting new projects such as developing filters, activated carbon for medical use, solid acid catalysts, molecular sieving carbon, and carbon for heavy metal removal. In addition, we have advanced into the gas separation equipment business using the adsorption performance of activated carbon in cooperation with our subsidiary, Adsorption Technology Industries Co., Ltd.
With regard to the carbohydrate business, we are using our original processing technology to manufacture specially processed starch suitable for making films and to develop edible films. We are aiming to expand into the field of medical film preparation.
Futamura Chemical is special in its way of thinking.
Futamura Chemical was established by a founder who had seen the devastation across Japan in the last war and wished to reconstruct his homeland. We inherited his belief that a company is not a personal property, but rather it should be a public institution of society.
We stand on a principle that the company exists to ensure the daily lives of people who work here, rather than one that it exists for and belongs to shareholders. Hence, there is a corporate culture at Futamura Chemical to pursue the stability of the company from a long term perspective rather than to run after short-term profits and sales.
Now, the world is entering an era of transition. In order to overcome this transition and develop the company stably, it is indispensable to have an attitude to think and act in a wider vision rather than thinking that we only have to care about ourselves.
As a Japanese company, Futamura Chemical will cherish the sense of Japanese traditional values, and strive to ensure the daily lives of people who work here and contribute to the industry and society as well.
President Yasuo Nagae